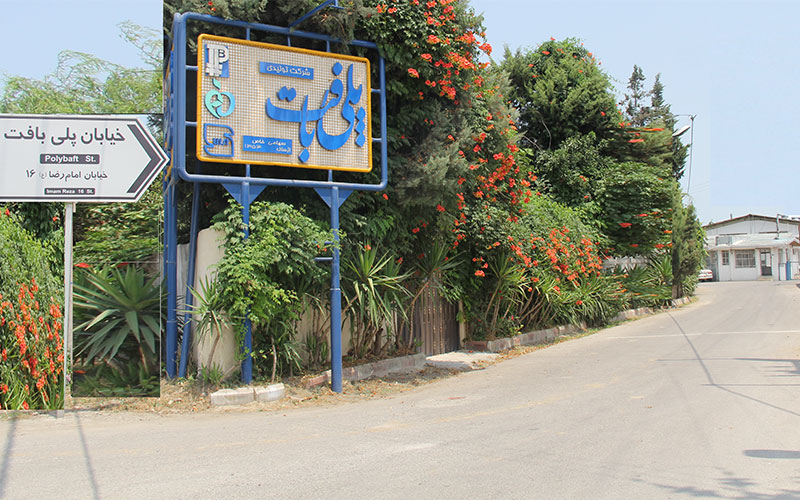 The Poly Baft production factory with its proud name that uses polypropylene for its woven plastic bags, is one of the pioneers and high quality producers of this industry.
This authentic complex we see today, was started in the coastal city of Babolsar in1974 and at a time in history when this industry was still completely new to the world and was a step forward in the industry of packaging agricultural products, flour, livestock food, poultry, aquatic animals, legumes, etc., because at that time it was considered a suitable alternative to hemp sacks, and even now, despite the difficult and exhausting years that it has passed proudly, with the help of God, We have witnessed great efforts and achievements over the years.
This company started with the most advanced machines in the world (Austrian Starlinger Company) from the beginning of its production and during these years, by changing machines several times and adding new technologies and machines from the same company to the factory, it seeks to expand and develop in this field to provide the best quality to our valued customers.
Relying on our expertise as well as having about half a century of successful experience and using the newest technologies in the world along with textile physics laboratories and quality control center and trying to satisfy dear customers is our prior features of this complex.
The invention in production of Compression Lip Bags for the first time in Iran was made by the experts of this company in the year 2004, which is currently the most popular bag for packaging agricultural products, especially rice paddies in farms, and this company, thanks to God, is the first and largest supplier of this product.
In addition, the production lines of Laminated Bags, Kraft Composite and BOPP Poly Composite, which are used to prevent the penetration of moisture and water and sometimes "light" that s used in various industries, including food, chemical and pharmaceuticals, etc., have been added to the company's products.
It is noteworthy that all the products of this company can be produced based on the customer's request and desire in different sizes and weights or any other special specifications along with printing up to six colors.
As you know, along with 47 years of successful experience in this company, which has always made it the top choice of customers, having a national standard mark and food and medicine hygiene license shows the high quality of products and reputation in this industry.
It is worth mentioning that upgrading our knowledge and technology in this field and creating new and practical innovations and opportunities are other factors of success in this field.
Honors of Poly Baft
With half a century of experience in this field, Poly Baft Company is proud to always be the top choice of its customers.
Also, having the national standard mark and food and medicine hygiene license in this complex shows the high quality of its products and its reputation in this industry.